truckload, import, export, flatbeds, hoppers, cargo, Oakland, California, Sparks Nevada, Carson City Nevada, Hauling Sparks, Hauling Reno, Hauling Nevada, Hauling California, Warehousing, Transloading, Semi, Tractor, Freight hauling, logistics, Reno Container Hauling, Container Hauling, Nevada Container Hauling, California Container Hauling, California Trucking, Nevada Trucking, Nevada Freight Hauling, California Freight Hauling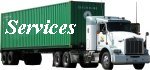 ---
High Mountain Transport LLC.'s services include, Import, Export, Drayage, Intermodal Trucking between Central and Northern California, Northern Nevada, Utah, Oregon, and Washington.
Call or email for a free Quote on your specific needs (775)-342-0414
We can get you're product from point A to Point B, with the assurance of quality, dependability, and honesty.
"100% Satisfaction Guaranteed"
Transportation of you're product from source to destination.
Haul Heavy weight loads
Hauling of specialized product, requiring flatbeds or hoppers
The transportation of you're product to and or from the ship yard
or rail yard.
---
Contact Information:
Telephone:
 775-342-0414
FAX:
 775-342-0256
Postal Address:
 100 Canyon Way
 Sparks, Nevada 89434
Electronic mail:
General Information: Mark@Highmtntransport.com
Sales: 1-775-342-0414
Customer Support: Mark@Highmtntransport.com
Webmaster: Dave@Highmtntransport.com
---